Men in Motion - Male Strip Clubs in Washington DC

LIVE STRIPSHOWS!
If you've never been seduced by a man before, you've never been to the Men in Motion Male Revue. While female strip clubs have long been accepted as a societal norm, now the tables have turned. Ladies, get ready; the Men in Motion are here to cater to your every desire! WASHINGTON DC MALE STRIP CLUB, BOOKING A PRIVATE STRIPSHOW.


Brite Box Theater Winchester, VA
Several Times A Year
15 N. Loudoun St., Winchester, VA
(IN THE DOWNTOWN AREA)

The Block inside of Harrah's Casino
777 Harrah's Blvd., Chester, PA
Several Times A Year
(LIVE CASINO SHOW)



Riverboat on the Potomac
301 Beach Terrace, Colonial Beach, VA
Several Times a Year

DC Speakeasy
12280 Wilkins Ave., Rockville, MD
Several Times a Year

PA, VA & Many Other Locations
We Perform Every Weekend on the East Coast
BACHELORETTE AND BIRTHDAY GIRLS PACKAGES!
CLICK HERE: FOR ALL SHOWTIMES IN THE D.C. AREA!

Call - 301-202-3939


When you visit our WEEKLY SHOW, you'll enjoy an optimal performance by our experienced professionals. With abs of steel and arms to die for, you'll be head over heels for our male dancers. Now is the time to explore the exciting realm of sensual erotica. It just so happens that there's no better place to do so than the Men in Motion Male Revue; where fantasy meets reality.
SEE THE MEN IN MOTION MALE REVUE
Due to an increase in demand, we are happy to announce that we are now servicing the Washington D.C. area. What better place to party the night away than in the capital city of the U.S? Reserve your seats today and begin planning your next visit.
What makes the Men in Motion different than any other Male Revue in Washington DC? For one, we've been in business for more than 20 years. We have an established reputation as being the best male revue not only in the capital region but on the East Coast. What makes us the best? It's a combination of class-act performances mixed with outstanding customer service. Our number one priority is making sure our clientele receive the standard of excellence they deserve. We've had several media sources say "The Men in Motion Male Revue is the ultimate girls' night!" So whether you're here for a birthday celebration, bachelorette party or any other special occasion, our male strip club performers will leave you with an experience you won't forget! The Men in Motion dancers' routines are carefully choreographed so that each performance is unique and stimulating.
When it comes to the ultimate girls' night out, it doesn't get much better than our male revue! The Men in Motion show in Washington DC is on par with some of the most elite acts in the country. In fact, many our guests find our revues to be just as good, if not better, than Chippendales! Now you have the opportunity to enjoy quality performances right in your local neighborhood. Check out our showtimes calendar and reserve your next visit!
Male Strippers for Your Party in the Washington Area | D.C. Male Strippers
If our Washington locations is too far of a drive, don't worry! Our male strippers perform in multiple clubs besides the Washington region. We have performed in Arlington, Baltimore, Alexandra and many areas in the capital area.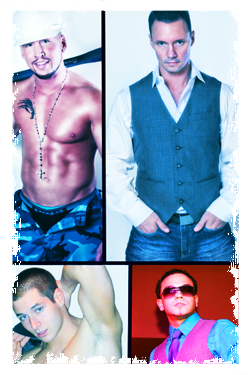 Our male revue is a traveling act that performs at various venues across the upper East Coast. We host bachelorette parties, birthday parties, retirement parties, and much more! You name it, we've done it. As a matter of fact, we can even deliver our services right to your door! Imagine how much fun you can have at your next house party when you reserve one of our handsome hunks. Click Here: Private Parties in Washington DC.
If you reside in the Washington/Baltimore area and would like to book a private showing, go through our dancer photos and let us know your "type". The process is quick, convenient and hassle-free. In only a matter of minutes, you'll have your very own show booked and ready to go to your doorstep for the date and time you wanted. Imagine the excitement when a handsome, young hunk arrives for your girlfriends! Our performers are fully equipped and ready to put on a show, all you have to do is pick up the phone and call now.
CALL 301-202-3939
FOR TICKETS & INFO CALL US!
The fact of the matter is that no woman should ever be ashamed of her sexuality. In the 21st century, there's absolutely no reason why women can't enjoy the same perks that men do. The good news is that we're here to make every woman feel desirable, sexy, and unique. Although it's our job to tease, tantalize, and arouse, it's also our duty to make every woman feel valued. We pride ourselves on the fact that our business isn't just about making money; it's about celebrating female sexuality. Our Washington male strippers and dancers are also available in Arlington, Silver Spring, Elkridge, Fort Washington and Woodbridge areas!
What are you waiting for?! Come on down and party with the very best in adult entertainment. Grab a drink. Kick back and relax. Take the night off and let us take care of you. You deserve it!